This post is part of a (new?) series where I review media, including games, books, movies, and more, that don't have a direct connection to Japanese fashion, but it shares enough similarities that I want to recommend it.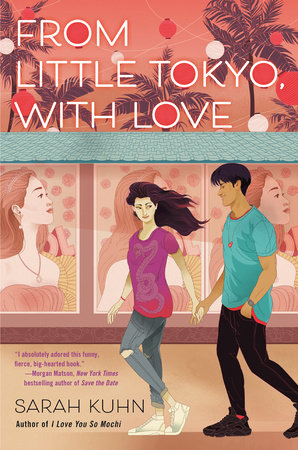 Author: Sarah Kuhn
Publisher: Viking
Great for: a beach read, rom com lovers, your next trip to Little Tokyo
Rika doesn't feel like she fits in with her family or her community in Little Tokyo. Raised with cousins named after Disney princesses and constantly reminded that she isn't "pure" Japanese, Rika struggles to control her explosive temper and find her own place in bustling Los Angeles. There's nothing about her that suggests her life is a fairy tale.  Everything she knows about herself and her world changes when she collides with Grace Kimura, Hollywood rom com darling and Asian American hero. The chance meeting sets Rika on a mad chase to find her long lost mother with the help of teen Dance Off! heart throb Hank Chen and the rest of "Asian Hollywood". As she gets closer to the truth (and falls hard for Hank), Rika comes to realize that not every story has to be a fairy tale – and there might just be a happily ever after just for her.
I would describe this book as a YA "rom com." While there are problems that the protagonist needs to overcome and real world conflicts, you're always sure that the good guys are going to prevail and the bullies will get theirs. I think you could accurately describe this book as "predictable" and "comfort read" for this reason.
The most charming part about this book is the deep love that is imbued in it's setting. The author clearly loves Los Angeles' Little Tokyo, and many real world locations and characters make their way into the novel. I thought that the references and nods to the real Los Angeles were cute and made the world feel more lived in.
It is so clear that author Sarah Kuhn is using the YA genre to grapple with real issues, including the drama and heart break of a coming of age story, the pressures placed on young people, the specific difficulties faced by mixed race individuals, and even the continued struggle for LGBTQIA+ acceptance in Japanese and other Asian communities, especially in the United States. If that sounds like a lot to pack into a 400 page novel, that's because it was. The cast of characters, is large and diverse, but sometimes it felt like each character and their struggles didn't get as much time as others.
Rika and her family, Little Tokyo, and comforting twists and turns of the rom com genre made this book a fun read. I would recommend it.