February 1 marks Lunar New Year, and the start of the Year of the Tiger! Whether you're celebrating the holiday or just need an excuse to get a new dress, here are 4 lolita dresses with tigers to ring in the new year!
The Black Ribbon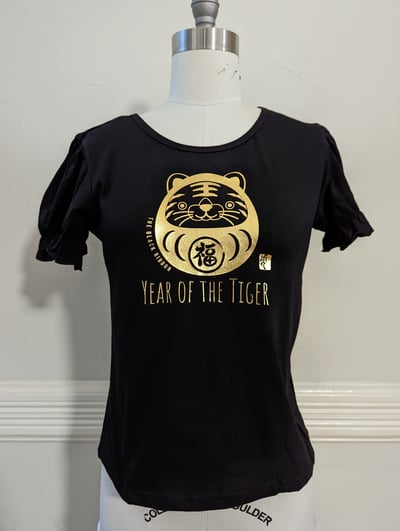 I think I've established how obsessed I am with indie brands, so of course I've got to add at least one to the list! The Black Ribbon is offering foil screen printed cutsews and totes (which are printed in LA by Nerdy Bit) with an adorable year of the tiger graphic. If you're feeling a little lucky, they're also offering lucky packs that will contain a printed tote, as well as random items from the Black Ribbon. I've gotten tons of items from them, so if you want a peek at their past releases for an idea of what you might get, you can check out my reviews.
Line Ball Cat
Chinese indie brand Line Ball Cat is selling an OP and skirt and cutsew top with adorable printed tigers in red. The OP includes some adorable detailing on the pockets and the cutsew hoodie has a little face on the hood and a tail on the back!
Jane Marple
Jane Marple's clothes aren't always the perfect silhouette for lolita. But its hard to argue that this  print "Circus Town" isn't adorable! Featuring a host of circus animals, including a cheeky tiger, this whimsical print is a great subtle way to celebrate the year of the tiger. The "Front Ruffle Dress" is avaliable on Ratuken right now.
Sakura Love
Lastly, this adorable tiger themed JSK from Sakura Love is an amazing Qi lolita look, over the top but perfect for celebrate the new year! As the culture critic no one asked for, I officially declare that tiger are acceptable in lolita fashion coords for the Year of the Tiger (and I will not be taking any questions.)
Full disclosure, I first found this piece on Devilinspired and I cannot for the life of me find the actual Taobao store. I also found it on Bhiner,  and on Weibo. If you find the Taobao shop, please let me know so I can update this page.
Which of these is your favorite? Let me know!
Correction: the original version of the this blog post indicated that the Black Ribbon lucky packs contained a Year of the Tiger cutsew. The lucky packs contain a printed tote.